Extensive information is available to you about each product file listed on the Product Files page. The information available is organized across multiple tabs:
Analysis Results

View an explanation of the confidence rating for the selected product file. See the article View a product file score for details.

File Details

View a variety of product file information, including the fingerprint details (that is, the

hashes that are used to uniquely identify a file)

. The basic file details (filename, MIME type, and size), as read from the properties file, are displayed. Any signatures, along with their associated certificates, are clearly listed.

Relationships

See how the selected file is related to other files. Organized across multiple tabs, view all packages known to contain the selected file (parent container), examine the file's subcomponents, and see a list of vendors associated with the subcomponent files. You can also download or generate a Software Bill of Materials (SBOM) for the selected file.

Vulnerabilities

See details of the vulnerabilities that are associated with the selected product file.
The name of the product file displays at the top of the page.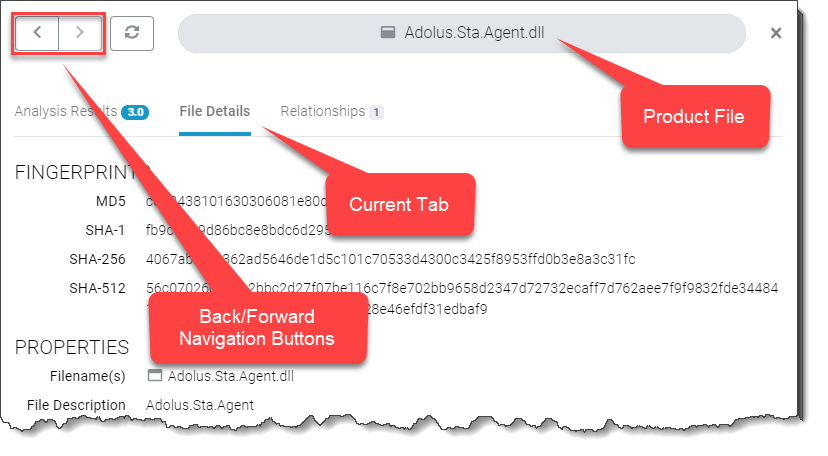 An underline indicates the current tab. A counter on most tabs provides, at a glance, quick information on what the tab contains:
The Analysis Results tab indicates the confidence rating.
The Vulnerabilities tab indicates the number of vulnerabilities that have been associated with the selected product file.
Note
Click the Refresh button to update the information as necessary. This is useful if information is still being processed and details aren't fully displayed.
Work through the following steps to locate a product file and view its details.
Expand the Vendor Tools menu and select Product Files.
Choose how you want the product files displayed: Group by Product or List All Files.
Locate the file you want to view.



Search Tip

Use the filter and search features to display a set of product files with specific attributes or help locate a particular product file. See Filter and search for files for full instructions on using these features.

Click a filename or the product file's score to open the information window.



Tip

You can also click More Actions on the far right of the row and select File Details.

Click a tab to display the related information.
Use the Back and Forward buttons to navigate through the recently viewed product files.
This navigation history is erased when you move to a different page in the web portal.
Click OK when you are finished viewing the product file details to close the window.